I've fallen out of making things to sell recently, as well as even trying to sell what I have already made. Not so good for me, but good for you, because I'm doing a giveaway!
So far I've made "un-paper" towels (single layer 6"x6" flannel wipes) and reusable snack bags. The snack bags are lined with a wipe-able nylon material so they wash and dry easier than waterproof PUL, and they have snap closures (that actually work! it took some extra fiddling and re-pressing). I'm selling 10 packs of wipes for $6, large (6"x9") bags for $7, medium (5"x7") bags for $6, and small (3"x5") bags for $5. I'm also crocheting up some baby ring toys out of cotton that I'll sell for $5. Does that all sound reasonable? I hope so.
Whatever doesn't sell after this weekend I'll be trying to sell online, so if you're interested in anything, let me know! I'll probably mark down the wipes to be competitive, but it'd be nice to actually get paid for my time and not just cost of materials :)
(
Pictures of all the snack bags...
Collapse
)
I'm participating in my very first craft fair, a "green" one at that! It's at St. Tar's in Chicago this Saturday from 10:00 - 4:00, so if you're in the area, stop by!
Etsy store
, but I've made so few sales that the fees aren't worth keeping it update. For that reason I'm leery of starting up at Hyena Cart too.
So, since I spend most of my time on LiveJournal I thought this would be a nice (and free, ha!) transition. I'm a stay at home mom; I don't feel that I work enough to classify as a work at home one :) I do various odd jobs for extra cash, and more certainly never hurt!
I'm not sure how much I'll get this updated. So far I've tackled longies and wipes with much success. My serger and I are BFF while my sewing machine and I currently aren't speaking to one another. Because of this my projects are limited. Once I get a button press expect to see snack bags up here though! I'm excited about making those for our use.
So, thanks for coming over and taking a look. I can assure you I'm a real person (wow, I've been on LiveJournal for almost 8 years!) and that I wouldn't sell anything that I wouldn't use myself. I'll buy all supplies as I receive the orders unless things really get rolling and I start stocking fabrics and yarn. Everything you get will be one of a kind! Oh, and I get comment notifications by email, so leave one anywhere and I'll get back to you ASAP!
This here community is my newest idea for keeping track of my projects and offering them up for sale. I have an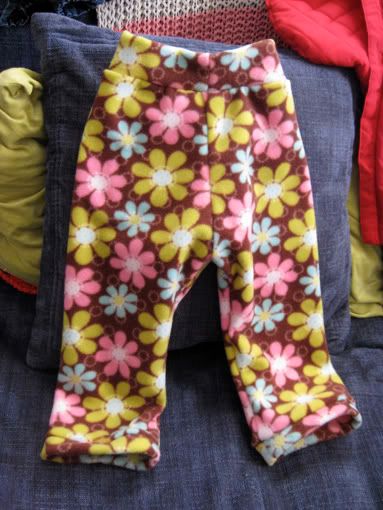 Extra layer: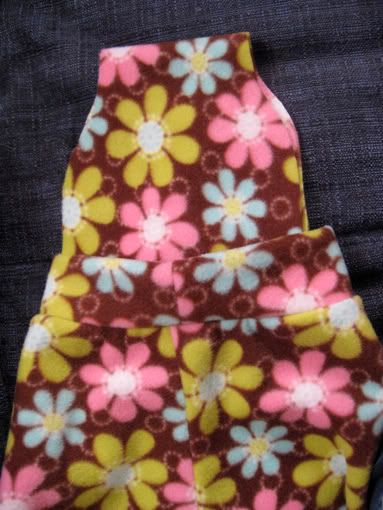 I'll make these custom to your measurements and will once again find fabric to your liking, be it a solid color or a pattern.
Newborn through medium sizes: $10
Large and x-large: $12
I've made a few pair of fleece longies for my daughter on the serger that have turned out nice! I add an extra layer attached at the front and back of the waist inside so that it's like an internal soaker, which I've found really helps with not feeling any dampness on the outside.
Tell me what you're looking for! Girlie, boyish, or neutral. I like two layers for diaper wipes and single layer for everything else. These will be made of 100% cotton flannel, measure 8 x 8 inches, and have rounded edges.
$0.90 per double-layer wipe
$0.60 per single-layer wipe
For every 10 you buy, get 1 free!
I have a serger and am not afraid to use it :) I've made all of my own wipes as well as gifts for friends. I love how versatile these are! I use them for everything, and am actually contemplating making some family cloth for the bathroom too.
I expect to make many more :) These are medium-ish, but for custom knits, here's my general pricing/size guide (though I'll make anything absolutely custom to fit your babe):
X-Small / Newborn: waist - 13", rise - 12", inseam - 5", $30
Small / 3 - 6 months: waist - 14", rise - 14", inseam - 6", $35
Medium / 6 - 12 months: waist - 16", rise - 16", inseam - 8", $40
Large / 12 - 18 months: waist - 18", rise- 17", inseam - 9", $45
X-Large / 18 - 24 months: waist - 20", rise-18", inseam - 10", $55
Prices are low seeing as I'm new to the scene. I have easy access to
Lion Brand Wool Yarn
and you can choose between two colors (three if you're doing x-large) for stripes or different waistband/cuffs. Expect a 2 - 3 week turn around, but I'll try to get them done ASAP!
I can knit! I'm so pleased that I've finally taught myself to knit properly. Here are my first pair of longies...